| | |
| --- | --- |
| Founded on our own original technique, Glassy Carbon is a highly impermeable material, which effectively combines the characteristics of carbon and glass. Because of its amorphous structure, Glassy Carbon generates a significantly lower number of particles than graphite. In fact, there is a growing interest in it in the semiconductor industry. Glassy Carbon is also employed in other industries, including electrical, mechanical and chemical analysis. | |

Low Apparent Density

Excellent Chemical Resistance

Gas Impermeability

High Purity

Little Particle Generation

No Outgassing

Water Holders

Heat Reflectors

Susceptors

Guide Rings

Gas diffuser Electrodes for Plasma Etching

Crucibles, Protecting Tubes, etc.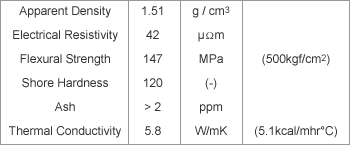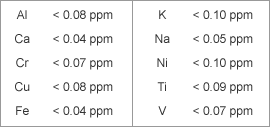 DIMENSIONAL TOLERANCE



DIMENSIONAL TOLERANCE


The maximum size available is 500mm in width and length, and 8mm in thickness. Products of special forms such as cylinders are also available. Please direct your inquiry to Tokai Carbon or its representative.